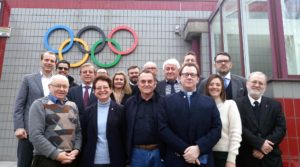 ---
A unique and specific body, the Monitoring Committee is multi-denominational, consultative and bound by a duty of confidentiality. It questions the conscience, ethics, morals and responsibility of all.
The Monitoring Committee's raison d'etre is to implement the Declaration and to serve as a tool to aid reflection on the interactions between sport and religion or philosophy of life.
It plays a consultative role (issuing recommendations on request) or assists the debate via notes or studies.
It is a forum for an evolving dialogue, a focus group for the enhancement of social relations between individuals, the overarching aim being to provide constructive support for the harmonious practice of sport rich in diversity. It is a place of discussion and reflection where the individuals forming it take the necessary time to issue Recommendations, developed with rigour and methodology, that take into account the values of their respective religion or philosophy while also respecting the individualities of other belief systems.
Member Institutions:
---
The Central Committee of the Anglican Church in Belgium
---
The Federal Synod of Protestant and Evangelical Churches in Belgium;